Our Blog
JEE Advanced 2023 - Result Analysis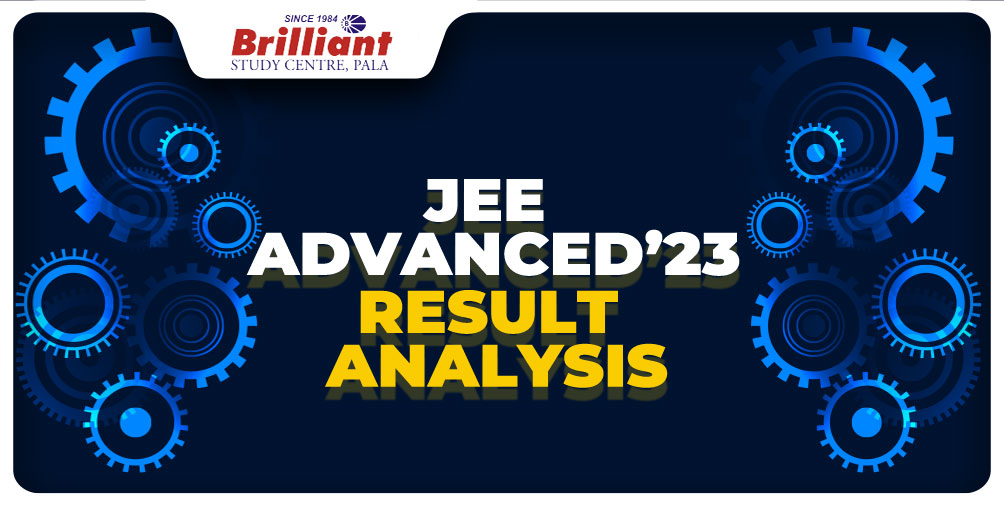 Result Analysis Of JEE Advanced 2023
The Indian Institute of Technology, Guwahati published the JEE Advanced 2023 result on June 18th. The entrance exam was conducted on June 4th in two shifts. Out of the 1,80,372 students who appeared in the exam, 43,773 were declared qualified. Mr. Vavilala Chidvilas Reddy of IIT Hyderabad secured the first rank at the national level with a score of 341 marks out of 360 marks.
From Kerala, Sanjay P Mallar from Brilliant Study Centre secured the first position with an AIR 86. He was a student from the Brilliant 2023 Residential Batch. While talking to the team, he said that the classes began online due to the pandemic and then shifted to offline mode. He prepared for the exam along with the board exams. His interest in the subjects of physics and mathematics, made him choose a career as an engineer. Through this top score, he wanted to join IISC Banglore.
The second position in Kerala is secured by Ashik Stenny with an AIR 195. His consistency and hard work on the JEE preparation have helped him to achieve this success. His journey with Brilliant started with joining the foundation course from class 9th onwards. This helped him to have a strong foundation in the science and math subjects.
Sivaroop J secured the third position in Kerala with an AIR 259. He was a student from the Brilliant Two-Year Residential Batch. In an interview with the Brilliant team, he said that the regular practice of model exams had helped him to get familiar with the question pattern.
Sayooj P with an AIR 290 got the fourth position in Kerala. He was a student from Brilliant 2021-2023 Residential Batch and his key preparation strategy was making short notes for the preparation. Madhav R Babu secured the fifth position with an AIR 307 for the JEE Advanced examination.
| TOPPERS | AIR RANKING |
| --- | --- |
| SANJAY P MALLAR | 86 |
| ASHIK STENNY | 195 |
| SIVAROP J | 259 |
| SAYOOJ P | 290 |
| MADHAV R BABU | 307 |
| FREDIE GEORGE ROBIN | 531 |
| SIVA SUNDAR | 666 |
| ASIL | 722 |
| SREERAM R | 890 |
| JAYDEN | 1009 |